---

Gene Conger's Paternal Family
Conger Genealogy
---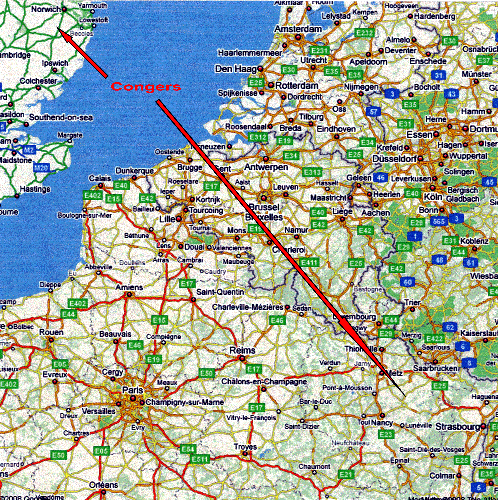 ---
1 - John BELCONGER
Born - 8 Sep 1633 Suffolk, England
Died - Abt 27 Aug 1712 Woodbridge, Middlesex, NJ
Bur. - Abt Sep 1712 Woodbridge, Middlesex, NJ
sp- Mary KELLY
Born - 12 Feb 1641 Newbury, Essex, MA
Mar. - 12 Apr 1666 Newbury, Essex, MA
Died - Abt 1685/1689 Woodbridge, Middlesex, NJ
Bur. - Abt 1685/1689 Woodbridge, Middlesex, NJ
Dau of John KELLY
2 - John CONGER Jr.
Born - 24 May 1674 Woodbridge, Middlesex, NJ
Died - Abt May 1727 Morris River, Salem, NJ
sp- Mary TUTTLE
Born - Abt 1678 Woodbridge, Middlesex, NJ
Mar. - Abt 1702 Woodbridge, Middlesex, NJ
3 - Jonathan CONGER
Born - Abt 1710/1715 Woodbridge, Middlesex,
Died - 3 Mar 1779 Woodbridge, Middlesex, NJ
sp- Ann ENYARD
Born - 1717 Woodbridge, Middlesex, NJ
Died - 13 Feb 1796 Cambridge, Washington, NY
Buried - Feb 1796 Cambridge, Washington, NY
Dau of John ENYARD
4 - David CONGER Sr.
Born - Abt 1741/1744 Woodbridge, Middlesex, NJ
Died - 1778
sp- Mary DARBY
Born - Abt 1742 Woodbridge, Middlesex, NJ
Mar. - 1762 Woodbridge, Middlesex, NJ
Died - Abt 1796 Morris Twp., Greene, PA
Dau of William DARBY & Mary UNKNOWN
5 - Elias Darby CONGER Sr.
Born - 8 Jun 1763 Woodbridge, Middlesex, NJ
Died - Abt 13 Sep 1843 Adams Twp., Monroe, OH
sp- Mary GREGORY (Second spouse of Elias Darby)
Born - Ireland Mar. - Abt 1804/1805 Greene, PA
Died - 19 Mar 1842 Monroe, OH
6 - ENOS CONGER
Born - 1 Jan 1814 Monroe, OH
Died - 2 Apr 1903 Appanoose, IA
Bur. - 3 Apr 1903 Cincinnati, Appanoose, IA, Bozwell Cemetery
sp- Mary Jane IRELAND (Lang) (Second spouse of Enos)
Born - Abt 1822/1823 Morgan, OH
Mar. - 2 Mar 1862 Appanoose, IA
Died - 6 Feb 1908 at Enos/Wallace Conger farm
Bur. - Cincinnati, Appanoose, IA, Bozwell Cemetery
Dau of William Linn IRELAND & Biademia SHAKLEE
| | | |
| --- | --- | --- |
| Wallace, Jenny (Cattern) Conger | Charley, Pearle Conger | Ruth, Pearle Conger |
| | | | |
| --- | --- | --- | --- |
| 1.Troy Conger | 2.Pansy (Seals) Conger | 3.Shirley, Gene Conger | 4.Naomi, Sarah, Dan, Sam |
7 - Joseph Wallace CONGER
Born - 24 Dec 1863 Cincinnati, Appanoose, IA
Died - 20 Apr 1937 Mendota, Putnam, MO
Bur. - Apr 1937 Mendota, Putnam, MO, Friendship Cemetery
sp- Jenny CATTERN
Born - 10 Apr 1865 Cedar, Mahaska, IA
Mar. - 25 Dec 1884 Mendota, Putnam, MO
Died - 19 Jan 1923 Mendota, Putnam, MO
Bur. - Jan 1923 Mendota, Putnam, MO, Friendship Cemetery
Dau of William CATTERN & Sarah SEAMON
8 - Pearl Truman CONGER
Born -1888
Died -1956 Centerville, Appanoose, Ia
Bur - Mendota, Putman Mo, Friendship Cemetery
sp- Ruth Alice WILCOX
Born -1895 Numa, Appanoose County, Ia
Died -1965 Davenport, Scott County, Ia
Bur - Mendota, Putman County Mo, Friendship Cemetery
9 - Troy Eugene CONGER
Born - 18 April 1915 Appanoose, Numa
Died - 6 Apr 2002 Mercy Medical Center, Centerville IA
Bur. - Sharon Chapel, Appanoose IA
Son of Pearl Truman Conger and Ruth Alice Wilcox
sp- Pansy Roselie SEALS
Born - 20 September 1916 Appanoose
Mar. - 14 Nov 1936
Died - 15 October 1995 Exline, Appanoose County, Ia
Bur. - Sharon Chapel (McCoy), Appanoose County Ia
Dau of John Abel Seals & Lavella Mae Griggs Seals
10 - Ernest Eugene CONGER
Born - 4 July 1937 Appanoose, Exline
sp - Shirley Ann Ehlers
Born - 17 Feb 1944 Jones, Maquoketa
Married - 17 June 1971 Moulton, Appanoose, Ia
Dau of Emil Ehlers and Bernice Hansen Ehlers of Wyoming, Ia
11 - Naomi Ann CONGER
Born - 5 September 1973 Appanoose, Centerville
sp - Micheal Bradley CASSADY (Ended in divorce year 1997)
Born - 29 March 1972
Married 23 December 1994
Son of Gary Cassady and Joyce Exline
12 - Troy Logan CASSADY
Born - 2 January 1996 Wapello, Ottumwa
sp - Steven Brent HAWK (Ended in Divorce in year 2007)
Born - 19 September 1966 - Appanoose, Centerville, Ia
Married 28 January 1998
Son of Harold Hawk Jr and Edith Mullins of Mystic, Ia
12 - Emily Ann HAWK
Born - 13 September 1994 Wapello, Ottumwa
12 - Ethan Eugene HAWK
Born - 3 June 1997 Wapello, Ottumwa
12 - Riley Kaye HAWK
Born - 28 Oct 2002
sp - Marc Wesley Jones, of Albia, IA
Mar. 8 July 2014 in Bloomfield, IA.
Son of William & Judy Jones of Albia, IA
11 - Daniel Eugene CONGER
Born - 14 August 1976 Appanoose, Centerville
11 - Samuel Dean CONGER
Born - 14 September 1978 Appanoose, Centerville
sp - Michelle Dawn FARRELL (Ended in divorce in year 2007)
Born - 20 August 1981 Chariton, Ia
Married 3 April 2000
Dau of Rex Allen Wright and Patricia McCarty Chariton, Ia
12 - Nicholas Gilbert Cole CONGER
Born - 15 May 2000 Wayne, Corydon
12 - Carlie Michelle CONGER
Born - 24 November 2003 Centerville, Appanoose, IA
sp - Tara Eve Jones
Born - 31 Oct 1982
Unmarried
12 - Josephine Everly CONGER
Born 8 Mar 2016
11 - Sarah Amy CONGER
Born - 7 March 1981 Appanoose, Centerville, Ia
sp - Mike SCONZO
Married 5 April 200
Born - 13 August 1966
Son of Frank & Patricia Sconzo of Centerville, Ia 12 - Shonmikel Frank Sconzo
Born - 28 July 2000 Davis, Bloomfield, Ia
12 – Zoie June Sconzo
Born – 6 January 2004 Davis, Bloomfield, Ia
12 - Oscar Alzado Sconzo
Born - 17 January 2014, Winfield, KS
12 - Gabriel Ziggy Sconzo
Born 13 Feb in Centerville, Appanoose, IA

---
*The only surviving obituary known by this author for Enos Conger:
CENTERVILLE DAILY CITIZEN - Vol. ix (4) number 88, Friday, April 3,1909, page 3.
(Cincinnati Review) ENOS CONGER, one of the oldest residents of the county and one of the oldest men in the county, died at his home about four miles southeast of Cincinnati about noon yesterday at the advanced age of 89 years. He had been confined to his bed for a long time and his death was not unexpected. Mr. Conger was a pioneer settler in the county. Funeral at 3:00 p.m. today after which interment will be made at the Bozwell Cemetery.
---
Descendents of Joseph Wallace Conger in the Appanoose County(IA) area
Gene Conger's Maternal Genealogy in Appanoose County(IA) area
Caldwell Township Congers From The 1850 Iowa Census (more Congers than any other name)
-- Friendship Cemetary --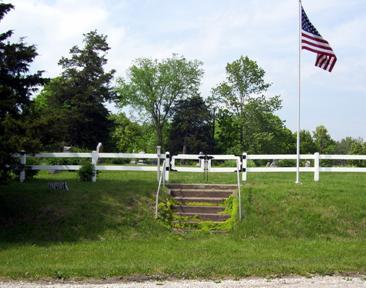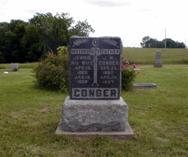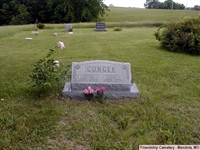 Jenny & Wallace Ruth & Pearl
Located 4-5 miles NE of
Mendota
,
MO
on old country road.
---