---
Daniel Eugene Conger
---
Daniel Eugene Conger
was born August 14, 1976 at St Joseph's Mercy Hospital on Main St. in Centerville.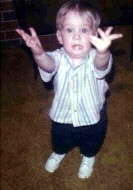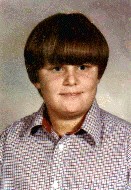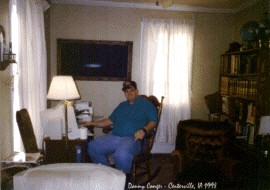 I suspect Dan, in the upper left photo, is looking for some help here from his mother who must be more intent on taking the picture than resolving whatever problem he might have been having. Dan's in school in the second picture, up in Lakeview in Centerville, Ia. and relaxing at the computer in our home on Drake Avenue here in Centerville in the third picture.
Dan went to schools in Cincinnati and Centerville and graduated from Centerville H.S. in 1994.
---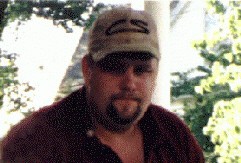 Dan in a reflective moment ......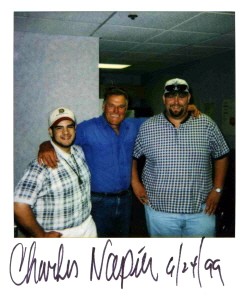 Dan was listening to the radio one day recently and they described this contest that was running on the internet so he took the information down and checked the 'net and sure 'nuff, here was this contest to see who could name the actor in a bunch of movies and he was able to name the person correctly and being one of the winners in the contest got to meet the actor and have his picture taken with him over in Ottumwa, IA.

So Dan and his buddy, Nathan Gavronsky, took off for Ottumwa, IA at the appointed time and here is the result ........

Dan's sure proud of this picture and I believe I am, too.




---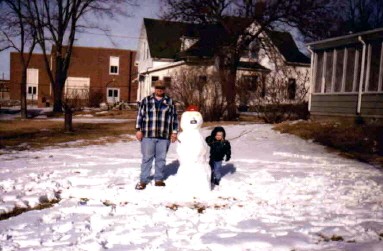 And here's Dan doing what uncles do best, making sure the arts are not lost as new generations come aboard ........ in this case his niece, Emily, is learning about snowmen.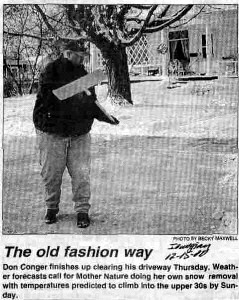 Seems like nieces aren't the only ones interested in Dan's vast experience with the snow. Dan shovels the snow for our neighbor adjoining on the North and for the nice old people across the street as well as his own home. Apparently the newspaper photographer thought the art of SHOVELING snow to be novel enough to be put in the newspaper. Dan sure got a workout this season, winter of 2000-2001, no big blizzard or anything but good snowfall way too frequently thru the winter.








---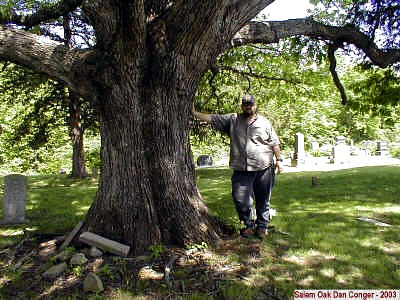 Here's an old oak tree in Salem Cemetary, where my great Grandfather and Grandmother are buried here in Appanoose County. Pretty big tree - Dan's a big guy and the tree makes him look smaller than normal. The tree's limbs spread out flatly to easily cover 100 ft diameter area. Salem is one of the older cemetaries in the county.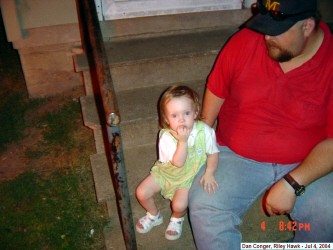 Dan's watching over Riley as the rest of the children burn up some 4th of July fireworks .......... she seems a little apprehensive about the festivities ......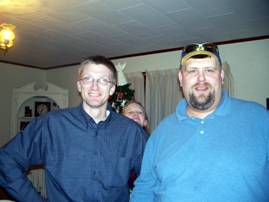 Dan and brother Sam posing for Christmas photo

……… and niece Emily Hawk in back, teasing.







---

Dan and nephew Troy went fishing at Exline Apr 2010 and came up with a nice mess of black crappies, about half of them around 13" long.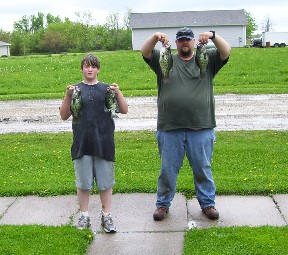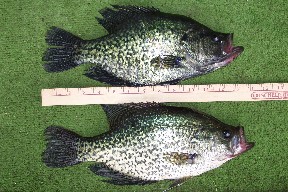 But, lots of work to do. The house we moved into is old wood frame and was not well kept so it sure cuts down on the fishing. Sam and Dan did an awful lot of work on the place just to date …..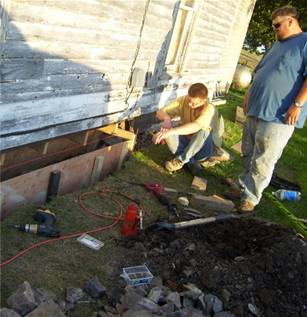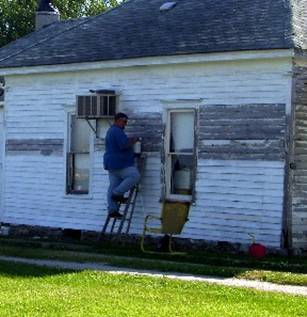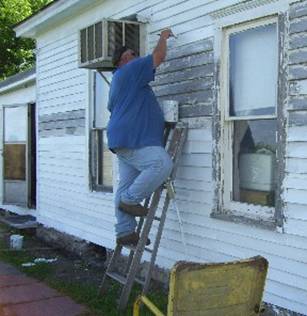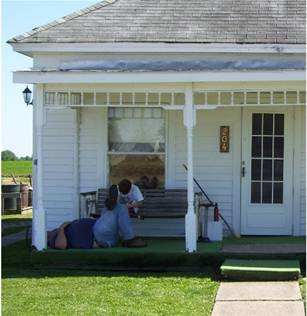 Done with the painting, time to rest …….


---
And then back to fishing. Now here Dan has caught another pretty nice crappie …..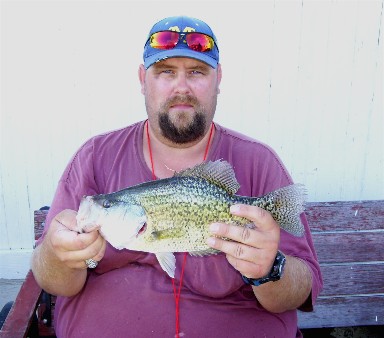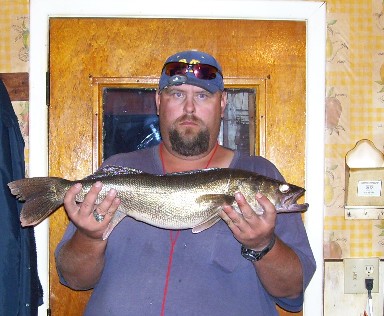 AND finally got into the walleyes!
---
Then back to work on the place. This time on the driveway .....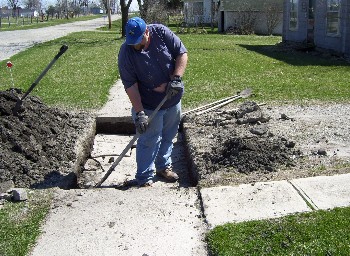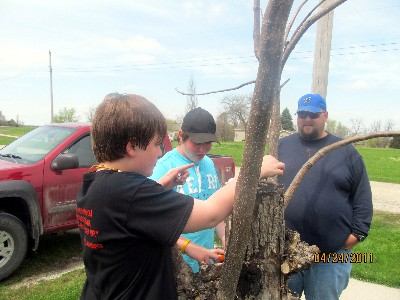 Examining an old tree in the front yard. It'll have to come out of there before long.
---
Dan's still fishing and he and his nephews went to the waterhole and Dan tied into a a big flathead catfish.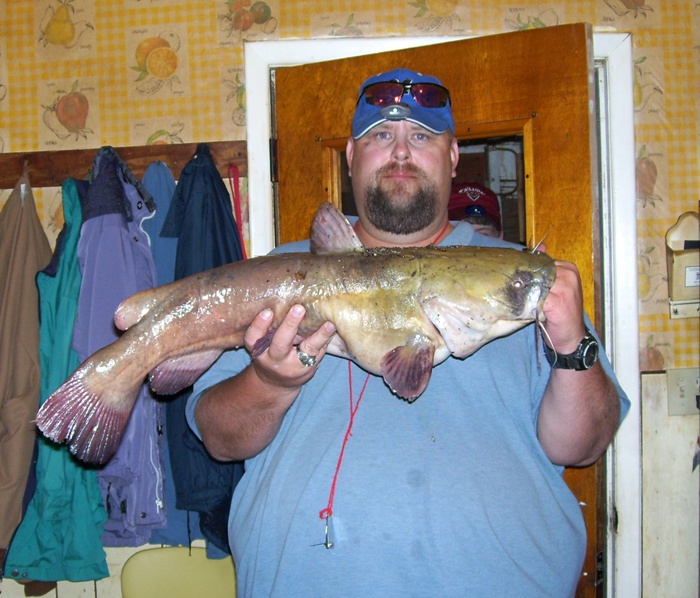 He sure must be onto those guys ........ when just starting out with the fishing, the first fish he caught up there at the dam was a flathead about 5 lbs. This one seems to be about 2-3 times that size. They brought the fish home - more to prove their story than anything, I suppose, and then after photos, put the fish in a local pond.
Well, they have quit bringing in their fishing photos but we do have one of Dan and his niece Emily Hawk at her senior grad party. Boy, he's a big guy .........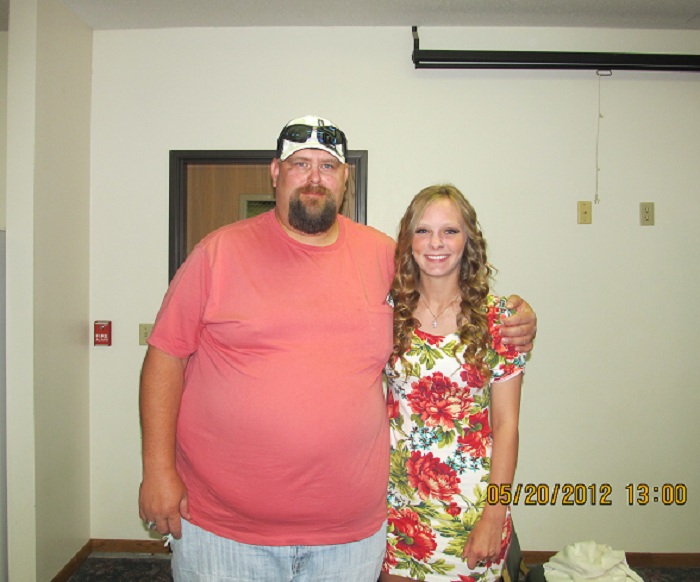 Dan Conger and Mike Sconzo had a birthday party and must have have had a good time as Shon and Nick got a big kick out of something. We almost didn't get the picture as it came out pretty dark but we were able to lighten it up and glad we did try ......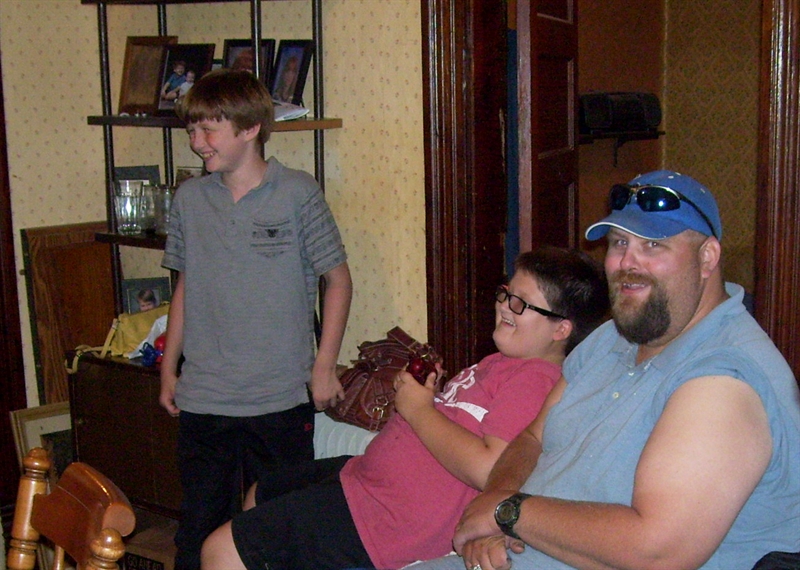 We like our birthday parties and generally have a good time.
They celebrated this 4th July pitching horseshoes ............ naturally.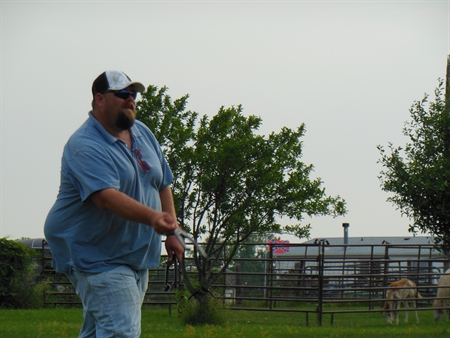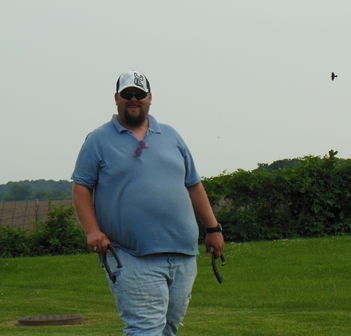 Wheewww ..... he's big enough to just flip them down there with his finger!
The birthday ends and we even got some VERY welcome rain. It's been really dry here almost all summer. So we need the rain more than the action.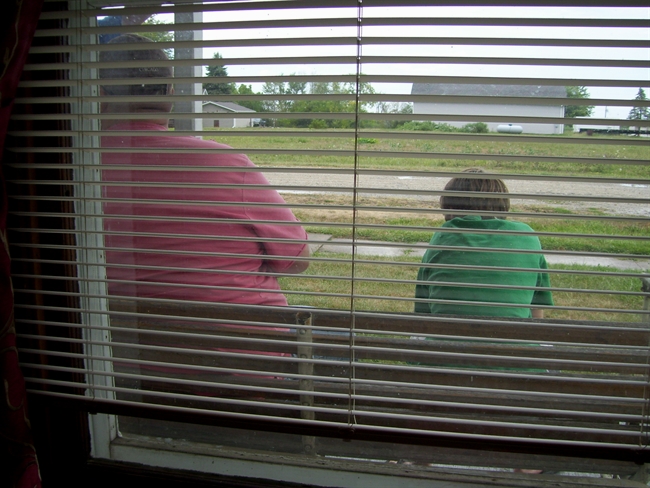 Hard on the kids though, not being able to play outside.
But we had our 2013 4th of July celebration and had a really nice day. It's also my birthday so we generally have a big get together.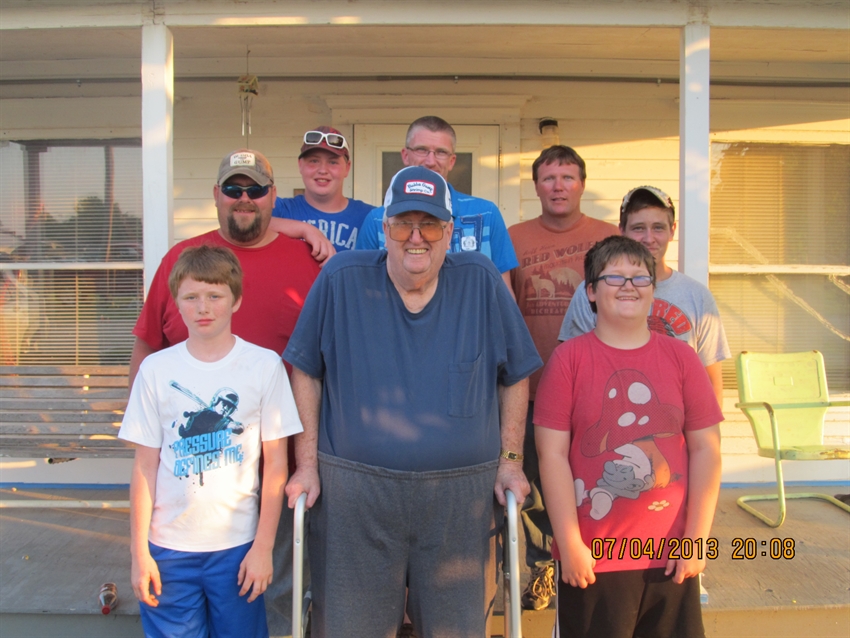 Here are all the menfolks; First Row, Nick, myself - Gene, Shon, back; Dan, Troy, Sam, Mark, Ethan.
Dan went to get his tool kit to work on a four-wheeler Ethan Had bought.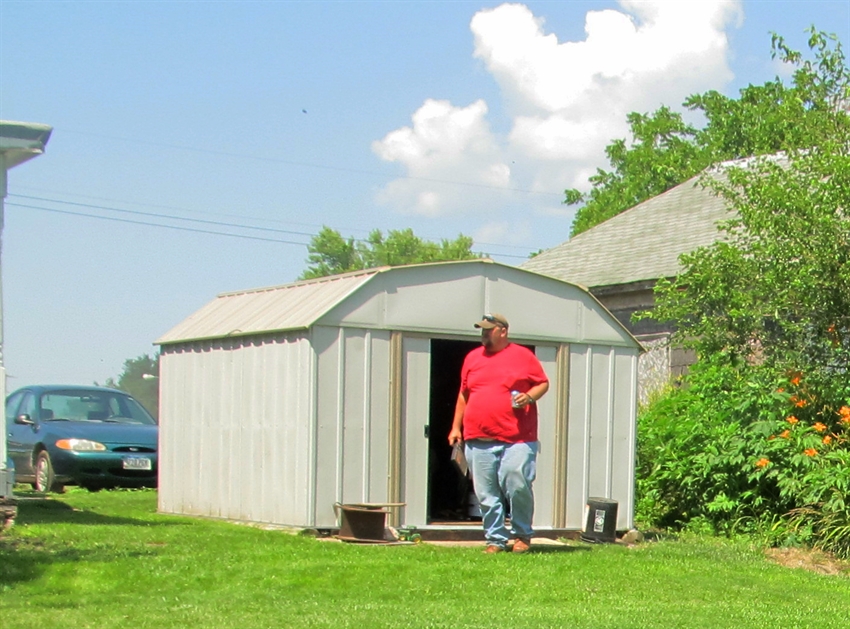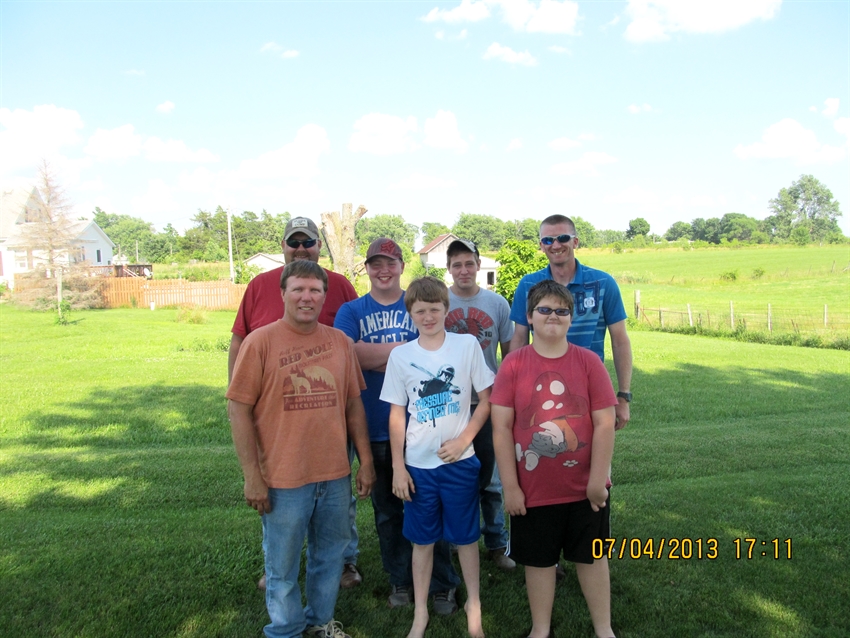 Here they all are, 'cepting me. Starting in the front again; Mark, Nick, Shon, Dan, Troy, Ethan, Sam.
---
Ernest Conger 12/26/2015
This page made by SeaMonkey
If you have comments or suggestions, email me at
genecongx@gmail.com