---
I found this picture of Sarah taken during a vacation to Las Vegas. Thought it was kinda interesting and want to share it.
She seems to be enjoying herself. I imagine Shon would have enjoyed it even more!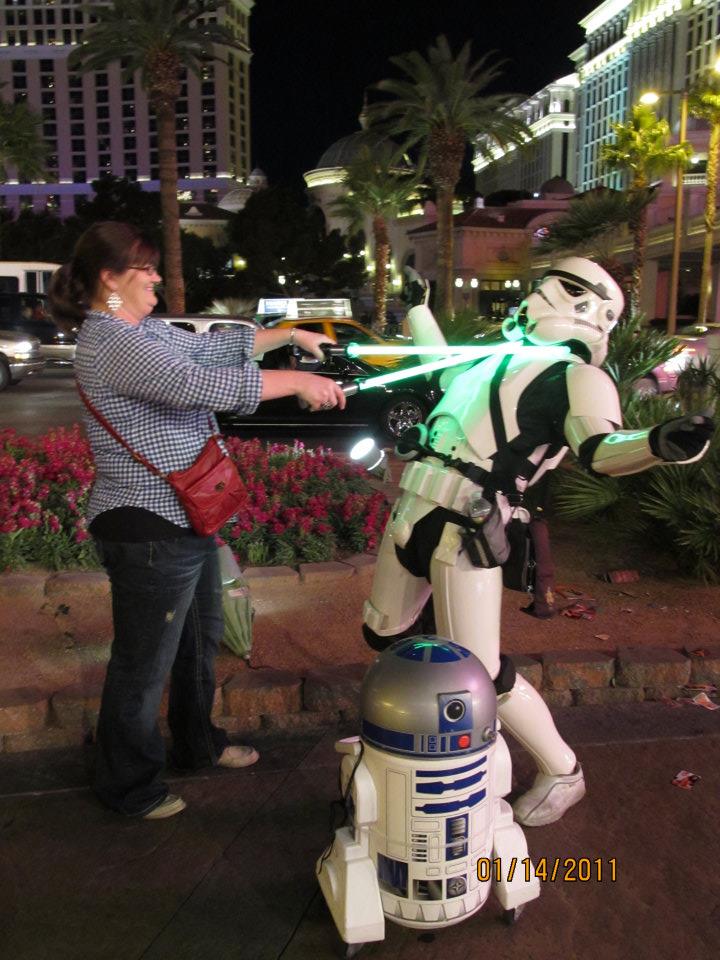 Sarah went to her father's 75th birthday party and got in on some of the festivities, of course. Doesn't look like they did much according to the photos but I imagine they did. I think that's a Kansas car that Zoie is driving.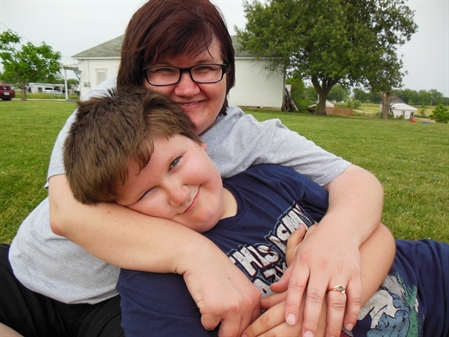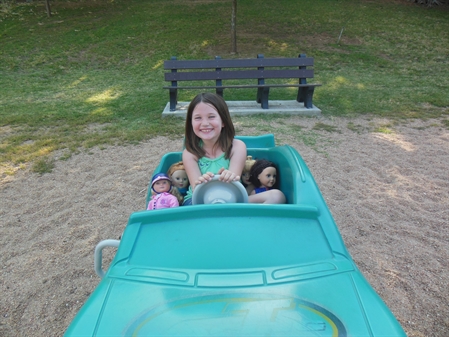 Boy, they just keep growing. Can you believe this .........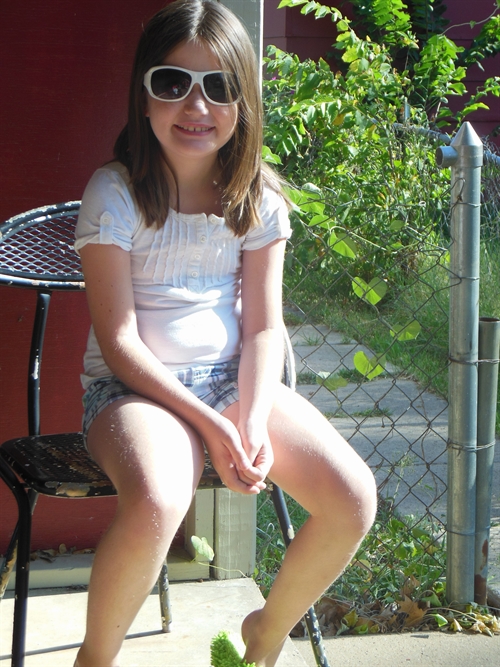 and Mike got to work on his demolition derby car and got it in the race at Appanoose county fair .....
I don't know who is driving ....... is that Zoie??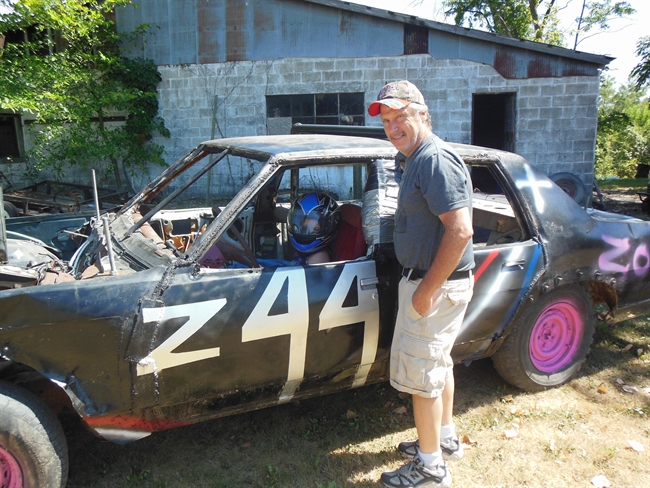 and Shon? He's mow'n the lawn!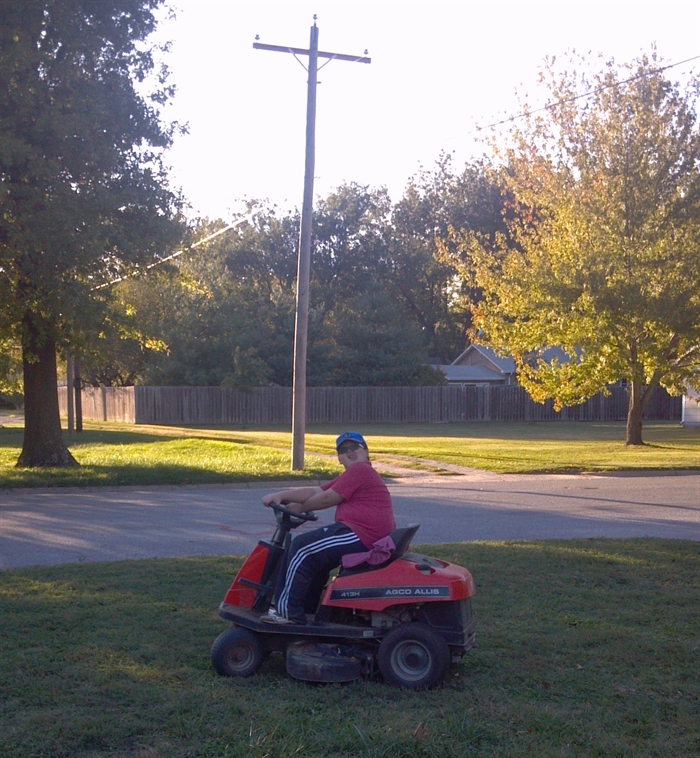 We had a birthday Party for Troy and Zoie. Troy born on 2nd and Zoie on the 6th. We had just a small family affair which is our norm.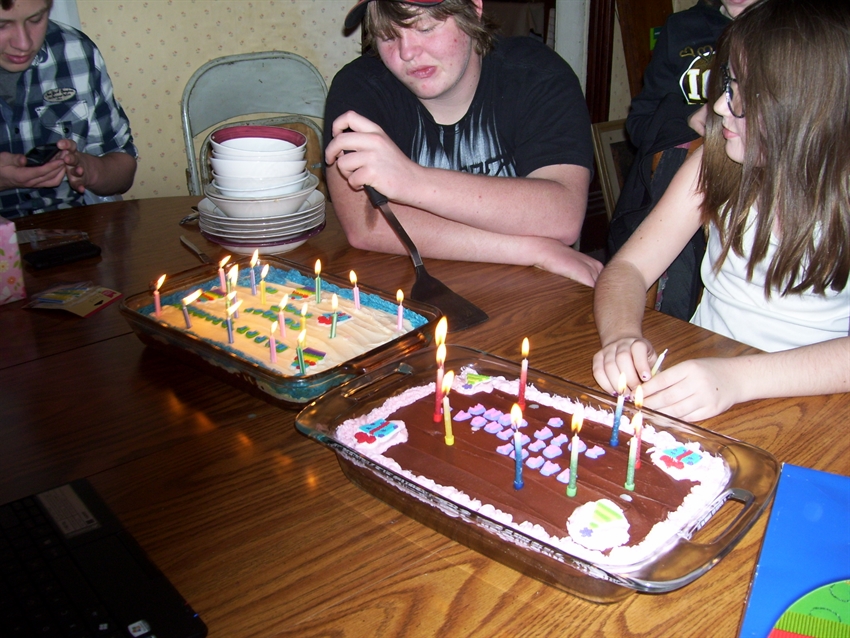 That's Ethan on the left and Troy in the center and Zoie on the right.
Below is Zoie's cake and she's posing in one of the shirts she got as a present.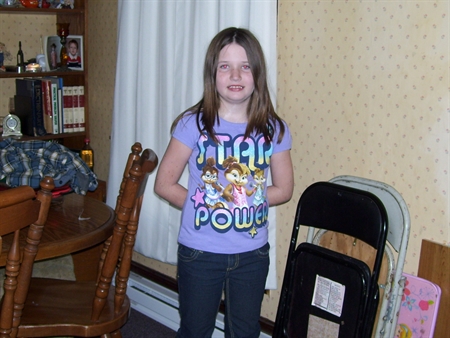 Here is Shon's class picture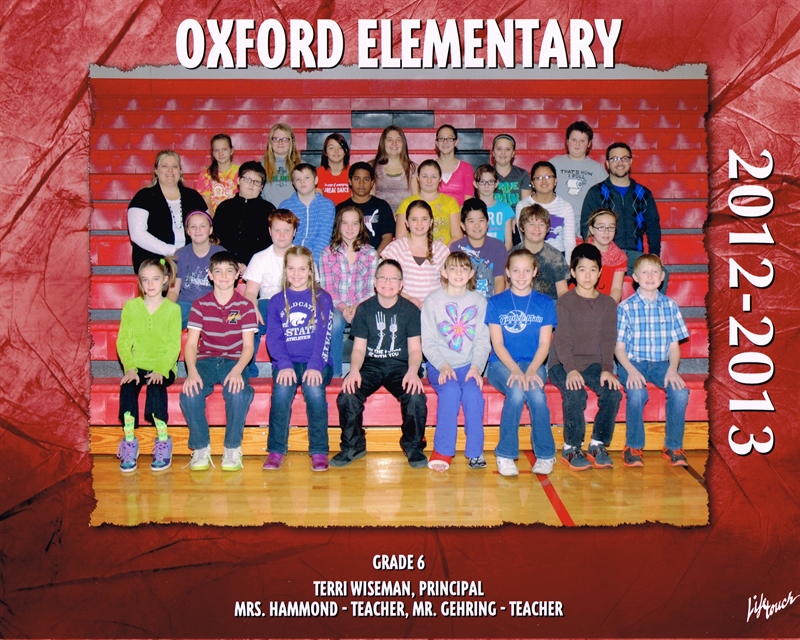 Well, let's see what we got here ....... looks like another picnic party! Gosh, there's Zoie, Riley, Emily, Sarah, Shon, and looks like Sam at end.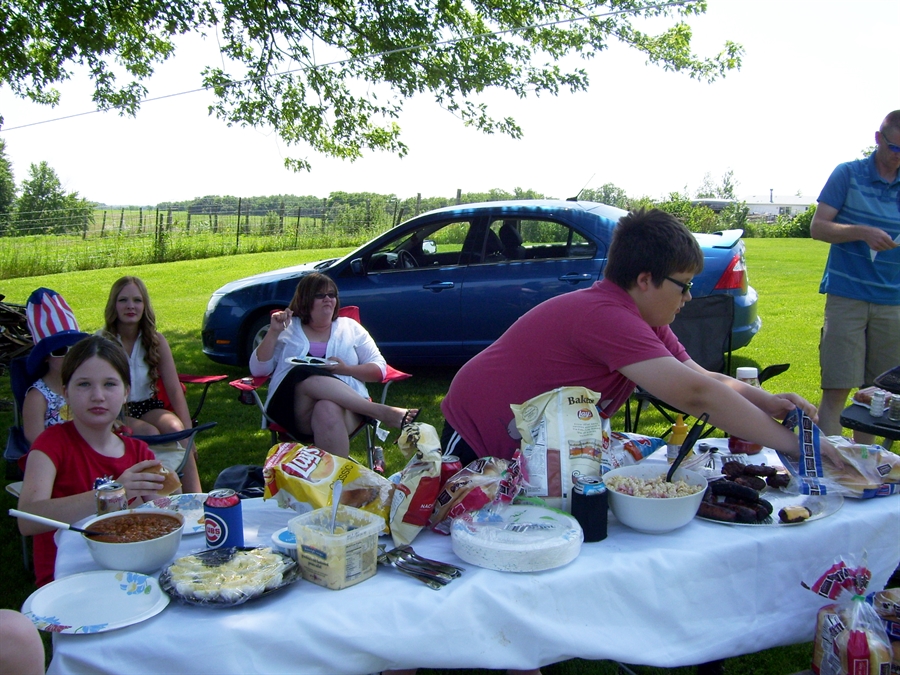 The sisters were here - that's Naomi and Sarah smiling for the camera.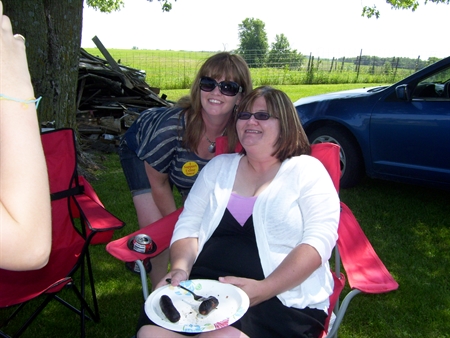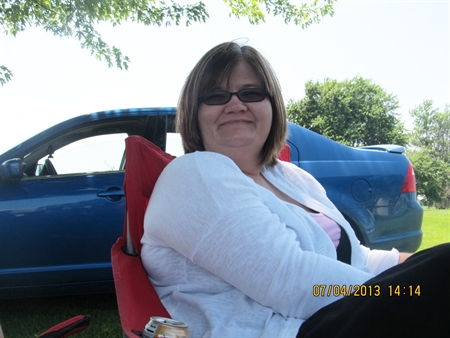 and Sarah again to the right.
Shon must be relaxing after the food ..... and Naomi and Sarah in a nice picture.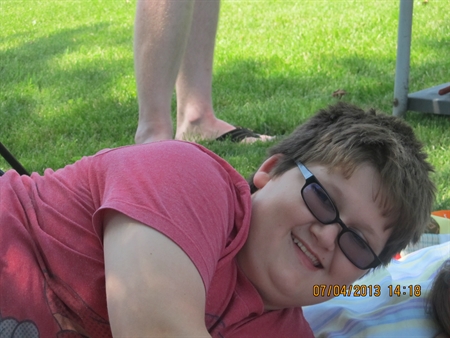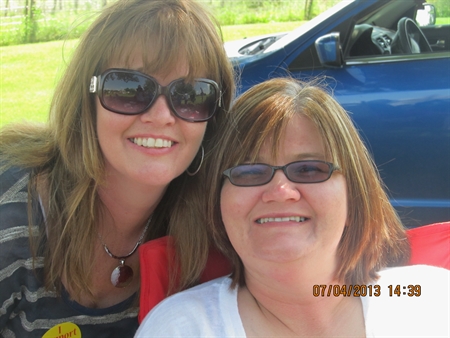 Everyone seems to be having a good time but they didn't play as many games as they generally do.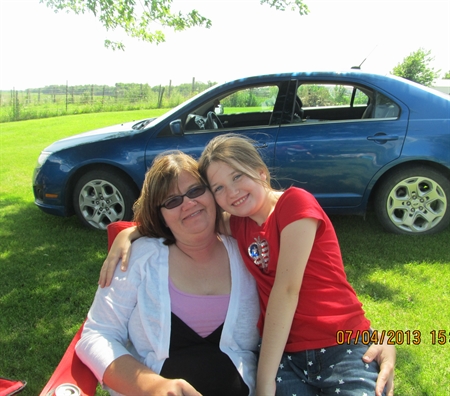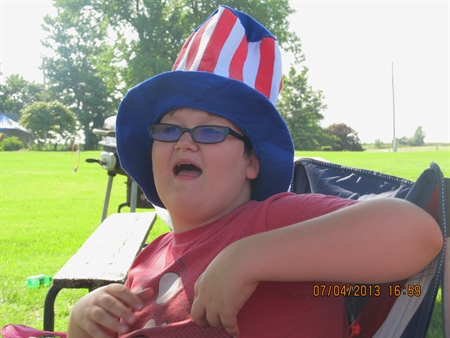 Nice picture of Zoie and her mommy, Sarah. Shon appears to be going to eat something or maybe voice an opinion
on his grandpa's birthday party.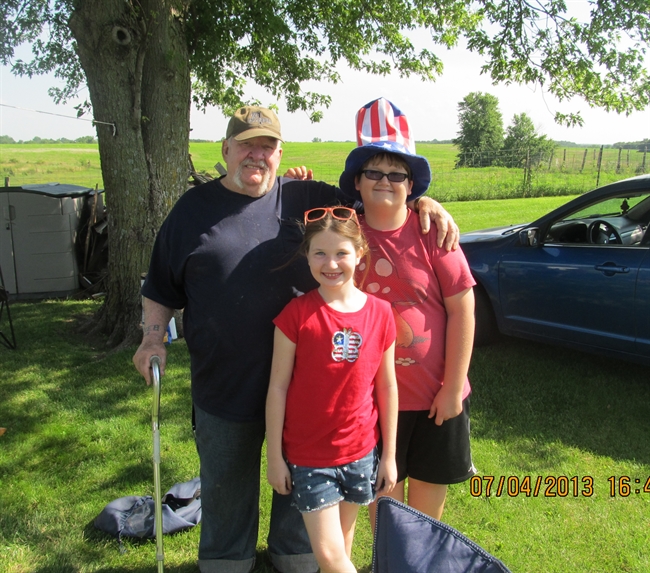 And this fellow, Dewayne May, who is very close to the family, came down to see the kiddies as they are up here from Kansas.
Here are the photos of the whole crew. I'm just happy to have them all come help celebrate my birthday and have everybody here.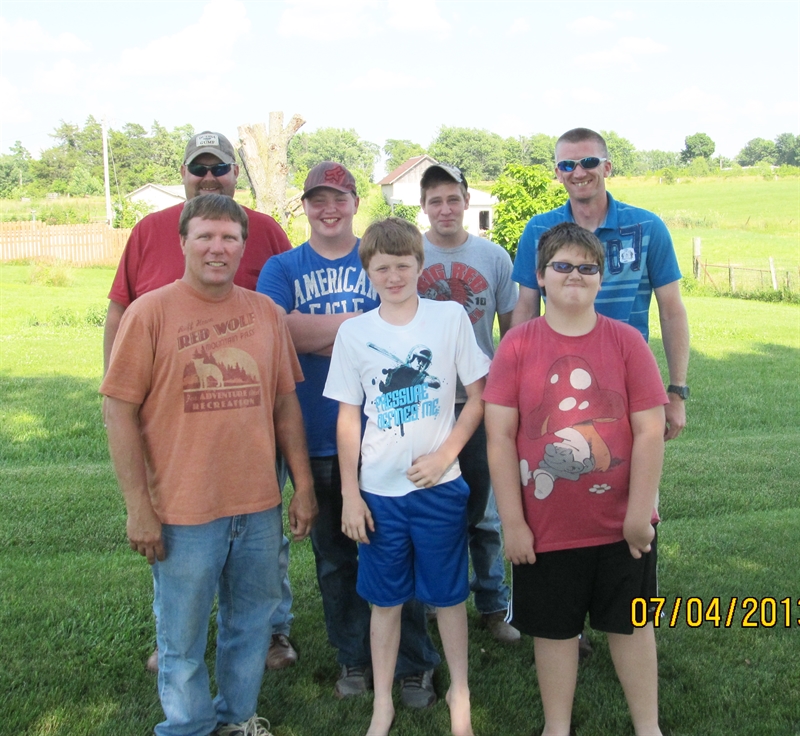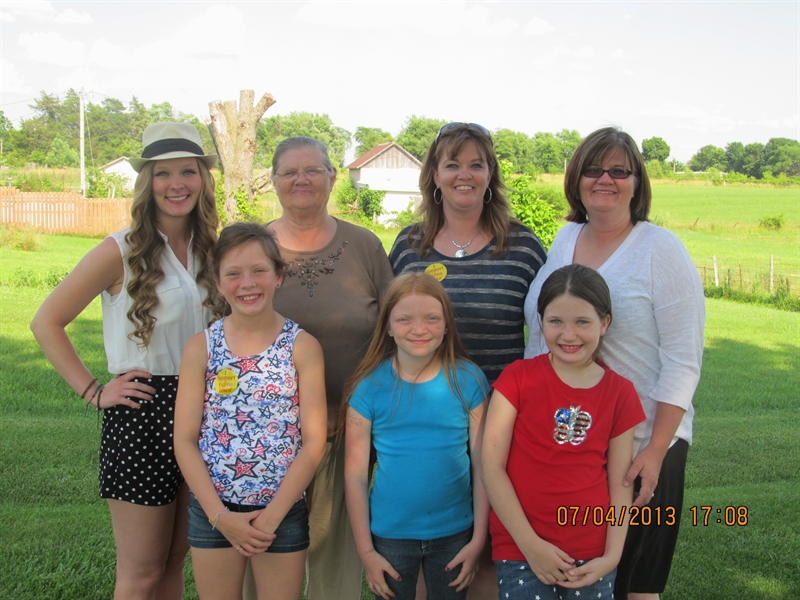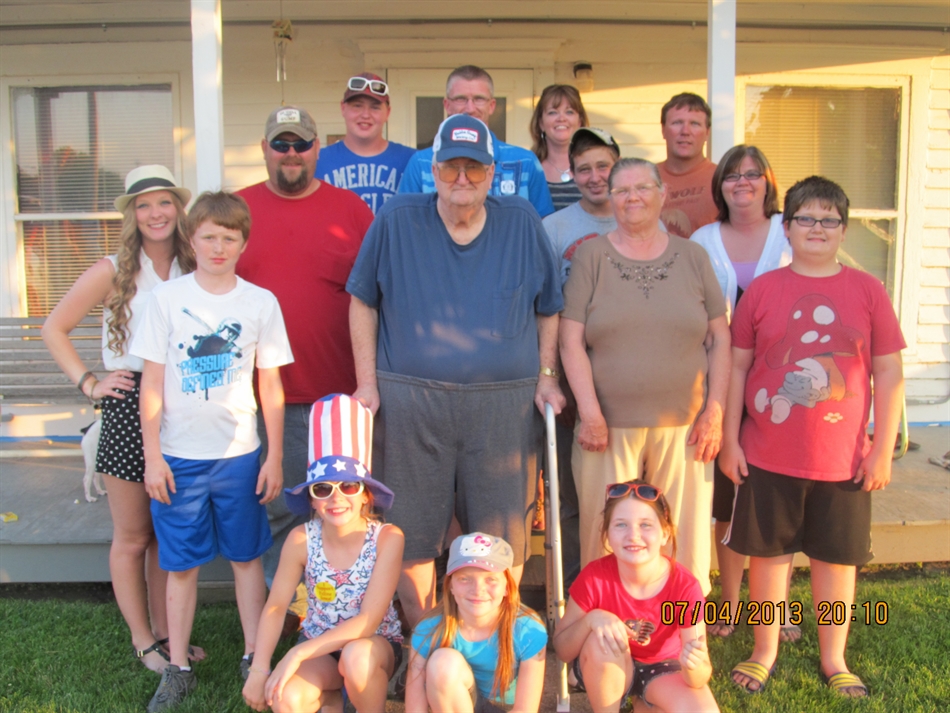 Maybe we'll get another year, too.
Shirley made a blanket for the new youngster the Sconzos are expecting and when Sarah got a new bed, she set it up and Zoie was supposed to be helping but she didn't get past the uncrating where she found some packing material that appealed to her so imagination took over and this is the result ..........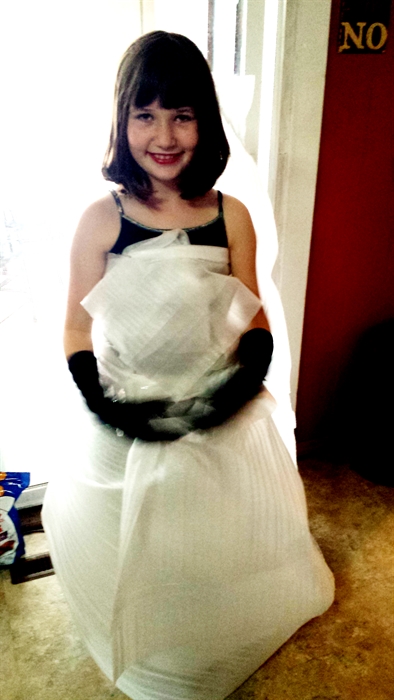 When I first saw it, I thought it was legit' .............
and here is the bed that started it all.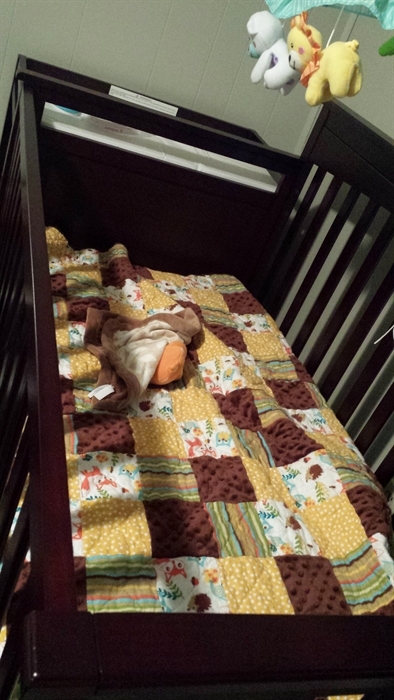 Hmmm, that is a pretty blanket.
I got another picture of Zoie - school picture spring of 2013. My goodness they are growing so fast I've become alarmed I will have missed something. I don't think I did but sure do wonder sometimes. Here she is .....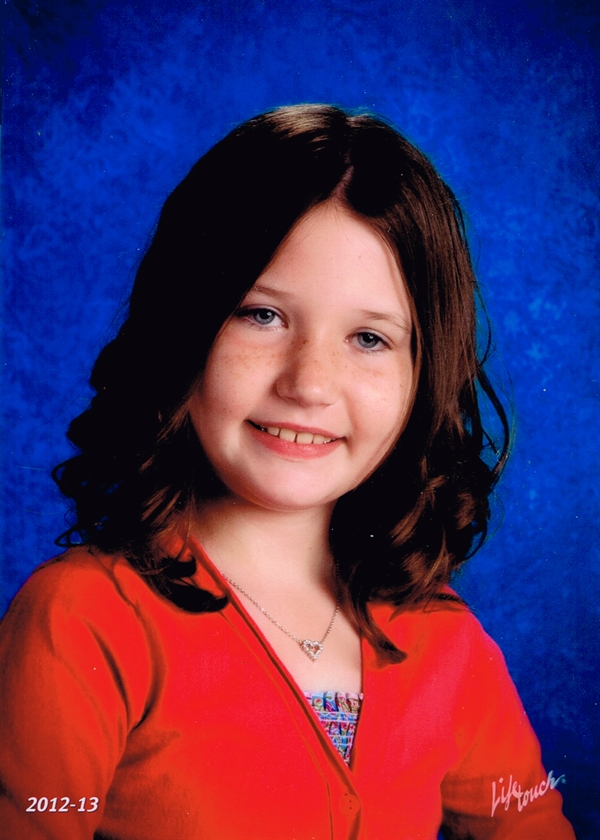 Well, here it is Jan 2014 and on the 17th day of the month, this pretty little fellow showed up in southern Kansas.
Oscar Alzado Sconzo was born in early hours of the day. This is the son of Sarah and Mike and is our 9th Grandchild. And here he is being held by his older sister, Zoie.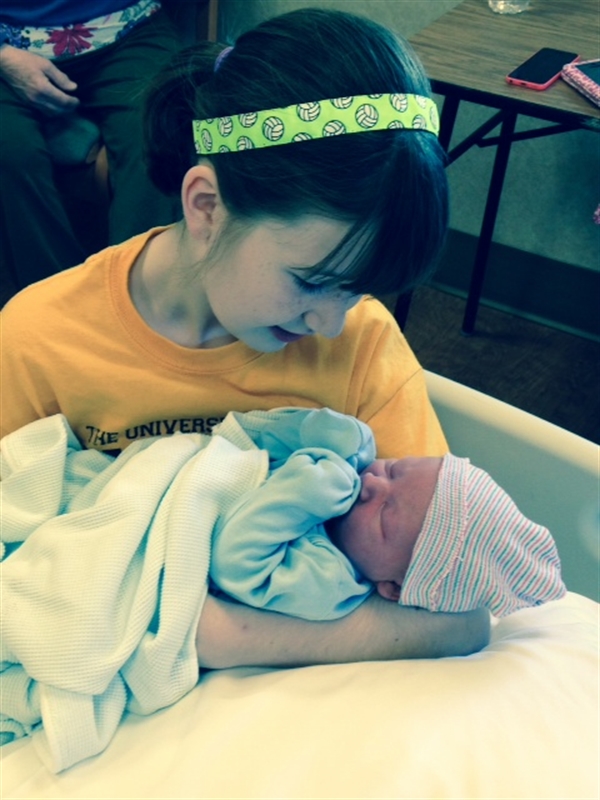 Wonderful, just great .......... what a guy he'll be!
I received some more pictures of Oscar Alzado ......... Shon's holding his little brother and gets a kick out of it? Then Oscar chows down and tiring, goes to sleep.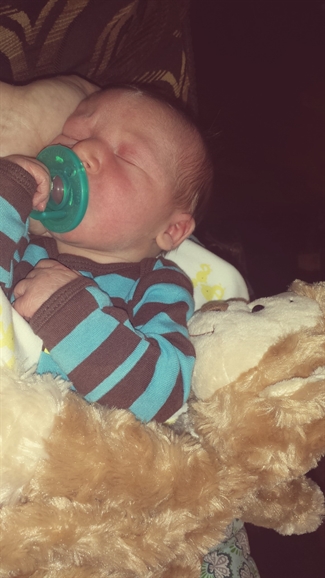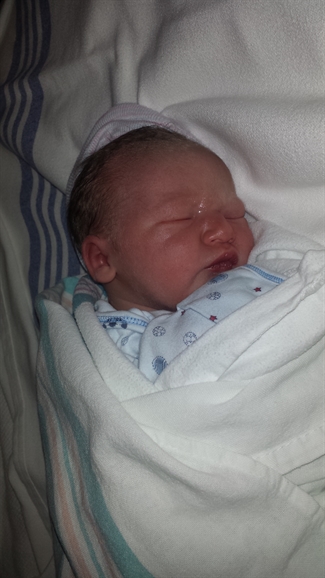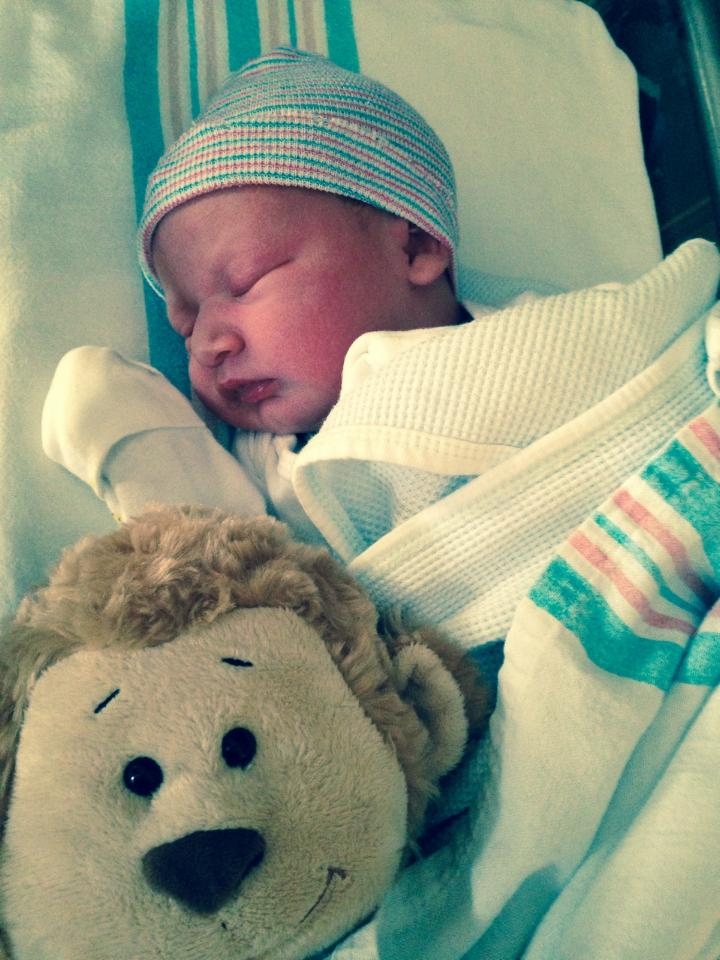 And he has a new quilt coming. Even though he got the one above, his Grandma found some material/blocks and made him another, a real this time, "patchwork" quilt. Looks just like the real thing.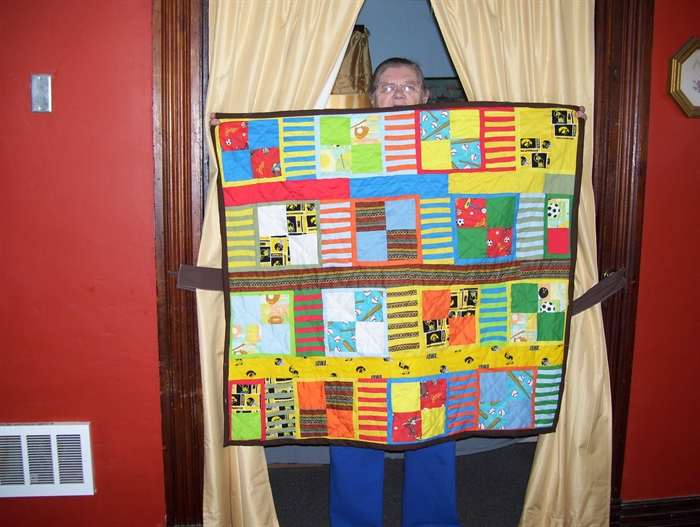 The way the weather is acting here in Iowa, he'll need'm both!
---
This page made by SeaMonkey
If you have comments or suggestions, email me at
genecongx@gmail.com